A pool is always an element of fun, especially in the summer. If somebody attaches a basketball hoop with it, it'll be like a full package of enjoyment. It could make your summer vacation awesome or your pool party rememberable.
On the other hand, we're living in a technology-based era where everyone is busy with either Xbox, VR box, Video games, smartphones, tablets or laptops, etc. A pool can be a method to taste real things. And the fact is a best pool basketball hoop has never lost its attraction.
Best Pool Basketball Hoops
| Image | Basketball Hoop | Materials | Rating [1-10] | Price |
| --- | --- | --- | --- | --- |
| | SwimWays | Plastic | Rating – 8.6 | $91 |
| | Lifetime Pool Side | Polycarbonate | Rating – 9.2 | $159 |
| | Swimline 90285 | Vinyl | Rating – 8.4 | $32 |
| | Swimline Cool Jam Pro | Plastic | Rating – 8.8 | $169 |
| | Dunnrite | Stainless Steel | Rating – 8.6 | $235 |
| | Dunnrite Splash | plastic | Rating – 9 | $298 |
| | Lifetime Pool Side Basketball System | Composite | Rating – 9.2 | $129 |
 7 Best Pool Basketball Hoops Review
---
1. Lifetime 1306 pool side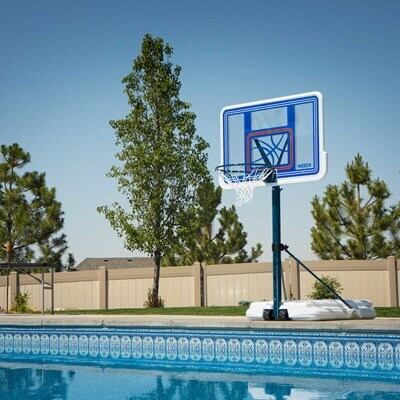 44" shatterproof backboard Rust-resistant and UV-protected pole height adjustable screen-printed Graphics Powder-coated, Weather-resistant finish original basketball Rim features
Lifetime products are well known for their good build quality. And here the Lifetime 1306 also comes with a good build in quality along with a 44-inch backboard and that ensures the shooting the target not gonna miss easily.
Verdict:
This product has a polyethylene frame that can handle the pool water. And as mentioned it comes with a weather-resistant feature. So even if you place this with the pool all year long it won't get rusted. It has a good feature rim and adjustable pole system. It has a 27-gallon base system which ensures durability.
Despite holding so many features, We've noticed that It has a major rusting issue. So if you can coat this with spray it's gonna give you a long-lasting pool gaming experience.
---
2. Swimline cool jam pro
Commercial quality multi-height adjustable poolside basketball Super-wide molded hard body backboard is a full 44″ wide by 32″ height Comes with regulation size game ball, metal hoop and heavy-duty net Ships in Certified Frustration-Free Packaging
The Swimline cool Jam Pro poolside basketball is a quality-based basketball hoop with a user-friendly price. It has a wide backboard which only a few amounts of pool hoops can provide. It has been built to take a long period of slam dunks into Intense basketball action.
Verdict:
I've noticed that most of the pool hoops available in the market have a common problem, Most of the time backboard gets twisted and the angle changed during the perspective backboard shot. This product is pretty much free from this type of problem. Its big backboard gives you a better shooting experience. It's easy to assemble, has good sturdiness and Durability.
But the most observed problem is, the rim gets rusted after a season or during a season. You might need to change the rim once after the purchase or coat it with spray to avoid rust problems.
---
3. Dunnrite Products Pool Sport 2-in-1
Includes two 17" wide×19" deep×38" tall base.2 in 1 set. Vinyl coated 13.5-inch stainless steel rim with an all-weather net. The basketball rim fixed height of 36" above the deck.16" volleyball net.
Now you can turn your swimming pool into a complete aquatic sports center with the Dunnrite pool sport 2 in 1 pool basketball hoop and volleyball combo set. This combo pack has a durable poly backboard measuring 22"×31", a 13.5" basketball stainless steel rim, and an adjustable volleyball net spanning from 16" to 22" feet. It comes with all stainless steel hardware and a 7 3/4" diameter color-matched basketball and a pink volleyball.
Verdict:
It's easy to assemble and easy to change from volleyball to basketball goals. The rim is saltwater friendly made of stainless steel and coated with vinyl. so rim gonna long-last. It has a base of 115 Lbs weight which gives you stability.
Great for families and both adults and kids.
If you are fond of both basketball and volleyball, then this item going to satisfy you.
great for a gift, pool parties, and having fun with friends.
---
4. Dunnrite Splash and Shoot Swimming Pool Basketball Hoop
43-inch × 28.5 inch backboard Vinyl coated stainless steel basketball rim with the all-weather net. The telescoping pole adjusts the height of the basketball hoop up to 56 inches above the swimming pool deck in infinite increments The base holds 25 gallons of water.
The Dunnrite splash and shoot swimming pool basketball hoop turn your swimming pool into an aquatic basketball court. This fun swimming pool basketball hoop features an 18″ stainless steel basketball rim. It is coated with vinyl to protect against rust. The base can hold up to 200 lbs. of water. It ensures stability.
Verdict:
It has a big polyurethane basketball Backboard which gives you a better shooting feeling. Its stainless steel basketball rim is coated with vinyl and has an All-weather white net facility. 200 lb water-filled base will ensure stability. It could be adjusted up to a 49" to 20" overhang. All stainless steel hardware announces the sturdiness of the product. It comes with a regular size 9" diameter color matched ball and 3 years warranty. Its sturdy, stable, and top-notch features won't make you regret buying the product.
---
5. SwimWays 2 In 1 Pool Sport Combo Set
FUN IN ONE: Easily switch between your favorite pool games. The SwimWays basketball hoop easily transforms into volleyball posts, and back again. DURABLE: Water-filled base and plastic material provide strong stability during play EASY TO ASSEMBLE: No tools are required for setup. COMBO SET INCLUDES 24″ volleyball net, 1 volleyball, 2 basketball hoops/base, and 1 basketball. HEAVY-DUTY CONSTRUCTION: This product is made of plastic. You will not have to worry about rust!
This 2 in 1 combo set is the perfect combo for any pool. You can play either basketball or volleyball in your favorite pool with friends or family. It can easily be set up like a snap. The water-filled base provides strong stability. This 2-in-1 combo set comes with one volleyball net, one volleyball, 2 basketball hoops, and one basketball.
Verdict:
The most common problem of having a pool basketball hoop is rust. And on this issue, this product is gonna be a blessing for you. Because of plastic material, It has fewer chances to get rusted.
It's two in one facility that is going to provide you with the best experience of gaming. If you feel boring with basketball for playing for a long time, turn it to volleyball.
It's easy to assemble and comes with a volleyball net, volleyball ball, Basketball ball means you can instantly start playing.
It also has some disadvantages. As being plastic, the rim could be broken easily. The plastic does not ensure sturdiness.
---
6. Lifetime 1301 Poolside Basketball System
44″ Shatterproof Fusion Backboard integrates a polycarbonate playing surface with an unbreakable polythene frame for a durable, pro glass look blue 27 Gallon base provides stability and portability; Can be filled with water or stand telescoping height adjustment that adjusts from 4 to 6.5 feet in 6-inch increments Graphics are screen-printed with UV-protected inks for superior color and protection against the elements-piece round steel pole is protected with a powder-coated, weather-resistant finish original classic basketball rim features a 5/8-inch solid-steel ring supported by 1/2-inch braces and an all-weather nylon net.
If you want to have a basketball pool hoop with a premium look along with better build quality, Then you should check this one. It looks more expensive than its real price tag.
It comes with a 44″ Shatterproof fusion, polyethylene backboard. It also has a blue 27-gallon capacity base, Telescoping height adjustment. Its classic basketball rim is made of solid steel.
Verdict:
The lifetime 1301 is such an attractive hoop with Great quality and durability. From the classic rim to the look, everything is Gonna give you a premium look and also could be great for experienced players or novices.
The measure of the backboard is 44 " which is made from polyethylene, is pretty much unbreakable, and gives a pro glass look. Its adjustable telescopic steel pole is UV-protected, and rust-resistant making it durable.
The base can hold around 27-gallon water or sand to ensure stability. It won't fall onto the pool even after a strong shot. Although it comes with a steel build and is powder-coated, It recommended to spray it with a protective anti-rust element. Overall this is a great product. If you overcame the rust issue by spraying and coating with anti-rust material, It would be a nice selection.
---
7. Swimline Giant Shootball Basketball Swimming Pool

Multiple ports for multiple shooters
1 ball included
Made of durable, heavy-gauge vinyl
45″ high x 36″ diameter
Verdict:
If you're going to arrange a pool party or want to have a good time with friends or family without playing real basketball, It will be a good option. To give someone a gift especially kids, could be a good choice too. It's a fun product made for each kid or adult.
What should you consider on choosing a best pool basketball hoop
---
There're a lot of things you have to consider choosing a pool basketball hoop. Here I mention some factors, whose you can put on your mind while buying a pool hoop. Here we go,
Durability First of all the thing you consider is product durability. Make sure your chosen product ensures you waterproof material, weather-friendly, it won't get rust as many hoops do.
It could another factor to consider depending on where you gonna use this especially if you only play this occasionally. There're a lot of hoops available on the market with portable facilities.
I think this one is the most important factor you should consider about. If you gonna play games with your kids then floating will be the perfect one for you or if you don't want to take this game seriously rather than casual then this will also be a good choice.
A Poolside basketball hoop will give you a feel like a real game that has a backboard to dunk or rebounds.
Usually, this type of hoop is best for adults or teenagers who take the game seriously. It could also be a good feature for pool parties.
Make sure your selected hoop has a sturdy base system. you should select a basketball hoop that has the best base for storing the sand or water to ensure stability.
The more base counter it has, The more sturdy it'll stay.
If you buy a hoop with a heavyweight and less base system, a strong wind is enough to give you a taste of kites in the hoop.
This is also an important factor to look after. Because having a pool hoop without waterproof means having nothing. You are going to use the hoop in the pool. So it'll come in touch with water.
The Final Word
---
I assume that by reading the whole guide, You may get an idea about the pool basketball hoop. You might've got confused by reading all the features, specifications, pros, and cons. Which one should you buy?
first of all, think about your basic requirements.
If you want to give a gift to the kid for simple shooting for fun, you can go for Swimline Giant Shootball. And if you wanna check the taste of volleyball along with basketball, go for either SwimWays 2 In 1 Pool Sport Combo Set or Dunnrite(BV700 Stainless) Products Pool Sport.
If you want to have fun with kids or friends, you can go for Swimline 9195, Dunnrite Products, Dunnrite Splash, or Swimline Giant Shootball.
But if you are supposed to host a pool party, Then Lifetime 1301, Lifetime 1306 would have a great choice. The premium look, better features will create a joyful experience of gaming at your pool party.
Check our related Guide about basketball hoops. Portable basketball hoop for the driveway, in-ground basketball hoop, and toddler basketball hoop.
Stephen is a professional basketball player, and his hobby is finding the best tactics in the basketball game. He has been addicted to this field for the last 6 years, and he loves this sport. Based on his experience with different types of plying method. He is sharing his opinion about various types of tips, basketballs and it required gear so that a newbie basketball lover can easily start the right way.